chrome coating / chromium coating machine / multiple arc coating equipment / nickel coating / vacuum environment
chrome coating / chromium coating machine / multiple arc coating equipment / nickel coating / vacuum environment Description
Introduction

Specification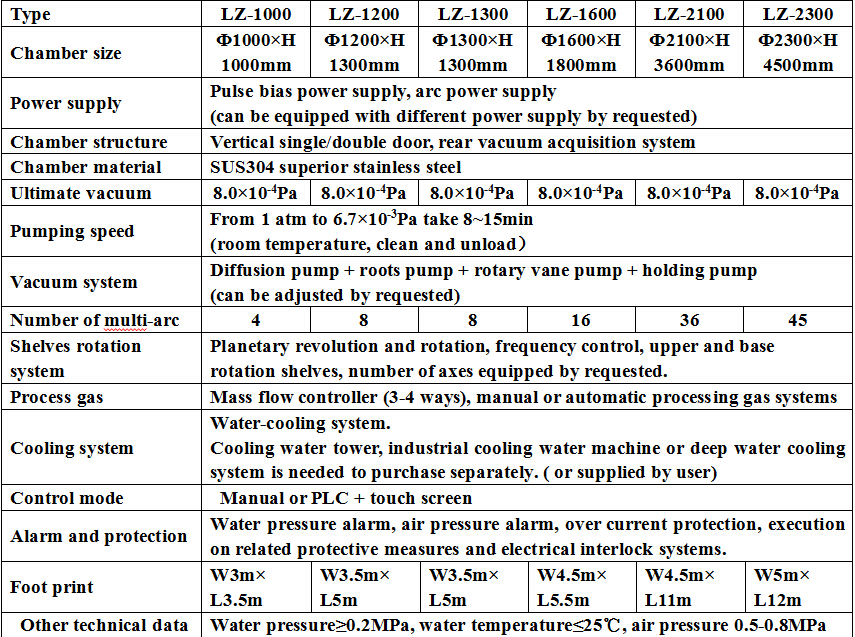 1 Vacuum coating equipment should be installed in the ventilation and clean place. Equipment from around the walls or other objects not
less than 500 mm, in order to inspection on equipment conveniently daily.
2 Installation site should be equipped with clean water, compressed air supply and stable voltage of 380V three phase four wire system.
3 Vacuum chamber, diffusion pump, roots pump, rotary vane pumps and maintain pump should be installed, In the case of conditional
rotary vane pumps and maintain pump should be installed anchor bolt to prevent the pump from vibrating and displacing in the work.
4 Electrical appliances before the installation must check whether there is any damage on electrical parts, at the same time with high-
pressure wind net electrical components and control cabinet for long-distance transportation process of surface dust.
5 When installation, must check whether all piping valves and seals complete and clean.
6 Before the installation need to check the connection bolts, ear, ground wire, instrument connection and button whether or not loose.
7 Check whether the electric protector is transferred to the scope of protection.
8 Tracheal joint and mouth must be strong, can't have leakage phenomenon, airway parallel to dredge,can't cross,boot load parts,
redundant trimmed.
9 Water installation should be tidy, can't have leakage phenomenon, need to test the water pipe pressure if qualified.
10 All the parts after the installation, need to check one or two times, especially the bolt fasteners and electrical appliances parts, but also
need to check many times repeatedly, confirmed rear can commissioning.
1 Power on
A. Check the power supply that came with the device (air compressors, cooling towers etc.) ensure that these devices to work properly.
B. Open the total power of master cabinet, cabinet bias, arc control cabinet.
2 Vacuumize. Preheating first, open maintaining pump, then open an electric furnace, preheating time more than 1–1.5 hours, open the
mechanical pump, open roughing valve (V1 valve) after 5 seconds, when the vacuum degree is less than 6.0×102Pa, open roots pump,
when the vacuum degree is less than 2.0×100Pa, close the roughing valve (V1 valve) and open the front valve (V2 valve), followed by the
opening of high valve (V3 valve), when the degree of vacuum coating process requirements can be done.
3 Coating. First glow and then help the bombers, bombed and then coated. (Depending on the coating process)
4 Released. Turn off the high valve, a minute later turn off the front valve, shut roots pumps and mechanical pumps, open the gas valve to
deflate .
5 Shut down. First pumping a certain vacuum, then turn off the electric stove, after an hour shut off the holding pump and then shut down
the power which comes with the device.
1 Whether the circulating water in water tower keeps clean, which needs change timely according to the specific conditions.
2 Whether the circulating water channel is unimpeded.
3 Whether the pressure in cooling water tower and air compressor is normal(standard: water pressure≥0.4mpa, air pressure≥0.8mpa).
4 Whether the water pipe and air pipe has leakage condition.
5 Whether the air compressor and water pump operate normally.
6 Whether all the valves operate normally.
7 Whether the oil mass in mechanical pump, roots pump, diffusion pump and molecular pump is within the normal level, which needs
change in time according to the specific consumption.
8 Whether all target energies operate normally, which needs to change in time according to the specific consumption
9 Whether all Intermediate frequency targets, DC targets and evaporation source glow have the short circuit condition.
10 Whether the grid bias power supply, intermediate frequency power supply, multiple arc ion power supply, magnetic sputtering DC
power supply and molecular pump power supply operate normally
11 Whether the equipment's heating is normal.
12 Whether all the switches and indicator lights on the control panel operate normally.
13 Whether the equipment's eakproofness and pressure keeping condition is normal.
14 Whether the pressure of Argon gas, Nitrogen gas, Oxygen gas and Acetylene is normal without air leakage.
15 Whether the rotating shelves operate normally.
16 Whether the equipment's inner lining board changed timely and whether the equipment's appearance keeps clean.
Water ring vacuum pump of advantages compared with other
Water ring vacuum pump of advantages compared with other Water ring vacuum pump is by change the volume of the pump chamber to achieve suction, compression and exhaust, so it belongs to the variable ca...


Vacuum system frequency discharge
Vacuum system frequency discharge That is, when the discharge frequency discharge between two electrodes in the form of a high-frequency alternating electric field caused by the presence. Generate a...


Pump performance and improve recovery
Pump performance and improve recovery Although the pump failure occurred is varied, but most failures is possible to exclude. Sometimes, a new pump for some production applications, somewhat of its u...